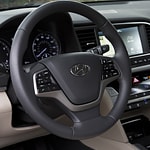 The Hyundai Elantra maintains consistent popularity in the consumer market. In a sea of compact sedans, the Elantra stands out. And that goes for both the standard version and the hatchback. Reliability contributes to popularity, as does comfort. Don't overlook the performance capabilities. The Elantra delivers on that level.
The engine packs 147-horsepower, which is an impressive level for a compact model. The 2.0-liter four-cylinder engine generates the horsepower and also offers a fast acceleration. When driving on highways, the power and acceleration go together well.
There's another excellent trait associated with the Elantra: great fuel economy. City driving delivers 31 mpg highways offer 41 mpg. With the ECO model, drivers can expect 33 mpg. The fuel economy helps make an already affordable vehicle even less costly.
The best way to see how the Hyundai Elantra handles involves going on a test drive. At Bill Dodge Hyundai, we want you to enjoy the test drive experience.