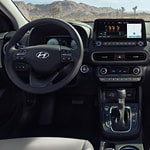 If you are in the market for a small SUV, the Hyundai Kona should be at the top of your list. It is one of the safest small SUVs on the road today, thanks to its many safety features. In this blog post, we will take a look at some of those features and see why they make the Kona such a safe choice for drivers and their passengers.
One of the most important safety features of any vehicle is its brakes, and the Kona has some of the best brakes in its class. The Kona's brakes are designed to provide maximum stopping power with minimal fade, even under heavy braking. Additionally, the Kona's antilock braking system (ABS) is one of the most advanced in the world, and it is standard on all models.
Another important safety feature of the Kona is its body structure. The Kona's unibody construction is designed to protect passengers in the event of a collision. The Kona's strong side impact beams and reinforced door pillars help to absorb energy from a side-impact collision, while the Kona's crumple zones help to protect passengers in a frontal collision.