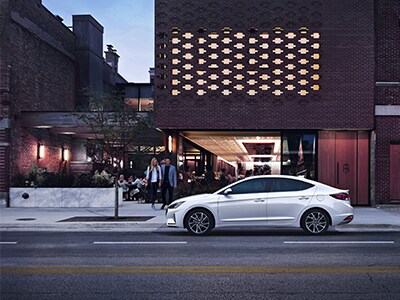 Exterior and Interior
---
The Hyundai Elantra and Toyota Corolla have similar exterior dimensions, but you'll find that the Elantra makes better use of its interior space when you step inside. Both models offer seating for up to five passengers, but the Elantra offers a more comfortable in-cabin experience thanks to its superior interior space.
With more legroom in the front and rear seats, more headroom in the front seats, and more shoulder room in the front and rear seats, the Elantra supplies plenty of space to stretch out and get comfortable while the Corolla might feel a bit cramped in comparison. The Elantra is also the only one of the two models to offer real leather upholstery for an extra dose of refinement.
Performance
---
The Elantra comes with a more powerful 2.0L 147-horsepower engine that outperforms the Corolla's 1.8L 139-horsepower engine. Not only the Elantra pack more of a punch under the hood but it also yields slightly better fuel economy on the highway, so you can go further for less.
The Elantra offers two other engine options to suit your needs, including an exceptionally efficient turbocharged engine and a sport-oriented turbocharged engine. The Corolla offers only one other engine option with its top-tier trim, and it trails the Elantra's most powerful engine.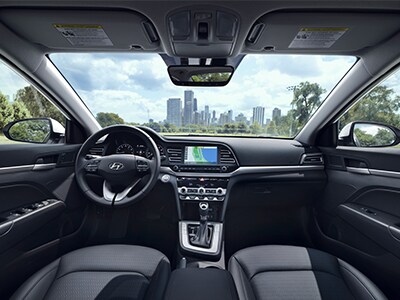 Technology and Safety
---
Both models come with a strong array of tech features, such as Bluetooth connectivity and Apple CarPlay. However, only the Elantra comes with Android Auto compatibility. This feature is not even available as an option anywhere in the Corolla lineup, so you can enjoy more versatility and connectivity options when you drive an Elantra.
Several safety features also come standard on the Elantra such as a lane-keeping assist system and automatic emergency braking to help you stay safe during your journeys. Other available safety features include blind-spot monitoring, a rear cross-traffic alert, and a lane-departure warning.
Warranty Coverage
---
If you're looking for an extra dose of confidence, the new Hyundai Elantra is poised to deliver. New Elantra models offer an impressive five-year/60,000-mile basic warranty and a fantastic ten-year/100,000-mile powertrain warranty. With such long and comprehensive warranty coverage at your disposal, you can breathe a little easier knowing that Hyundai has your back when you drive a new Hyundai Elantra.
The Toyota Corolla only offers a three-year/36,000-mile basic warranty and a five-year/60,000-mile powertrain warranty. These warranties pale in comparison to those that the Hyundai Elantra offers. So, if you're looking to get more out of your purchase and enjoy added peace of mind, the Hyundai Elantra leads the pack with its fabulous coverage.